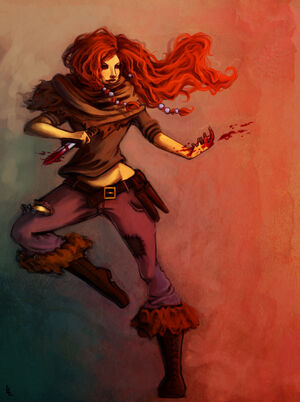 Nicknamed "Lish," Alicia Donadio is a tough and sometimes reckless woman from the First Colony, raised by the Colonel after the events of Dark Night made her an orphan.[1] Her parents were Walkers, presumably descended from Bernard Kittridge and April Donadio.[2]
She has an incredible aptitude for combat. She earned her reputation—as well as the nickname "Alicia Blades"—by taking out three virals at once in close combat when she was only fifteen years old.
The Passage
Edit
When Amy arrives at the colony, Alicia jumps over the wall to retrieve her and bring her to safety amidst a group of bloodthirsty virals; she is later persecuted for this seeming act of bravery, as her actions result in the death of Teacher, a revered member of the colony.
After this, she travels with the Apostles.
Alicia is in love with Peter and his feelings are mutual, although neither recognises this explicitly until she joins the Second Expeditionary. When she is fatally wounded in the battle with Babcock's Many, Peter infects her with the virus, which makes her abnormally strong and fast, although she is unable to communicate with the virals as Amy can.
References
Edit
↑ The Passage, Chapter twenty.
↑ The Twelve, Chapter 22.
Ad blocker interference detected!
Wikia is a free-to-use site that makes money from advertising. We have a modified experience for viewers using ad blockers

Wikia is not accessible if you've made further modifications. Remove the custom ad blocker rule(s) and the page will load as expected.