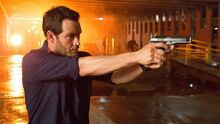 FBI agent whose job is to procure people, mostly death row inmates, to be used as experimental subjects by the Government and/or Military agents experimenting with the virus (possibly United States Army Medical Research Institute for Infectious Diseases (USAMRIID), the Homeland Security Agency, or the National Security Agency (NSA)). Eventually rescues Amy and flees to an abandoned summer camp in Oregon, where they wait out the end of the world. When a nuclear bomb explodes within range of Wolgast and Amy, Wolgast is believed to have died from the fallout. He is, however, shown to be a viral at the end of the book, as he embraces Amy when she calls for him to come to her. Alicia observes this from the wall, but its a secret that she will keep for Amy. Wolgast has and continues to love Amy. (The Twelve) Wolgast is revealed to be a viral under the chain of virals leading from Carter. However, he remains primarily loyal to Amy and is able to act independently even against Carter's wishes. At the climax of the book, he masquerades as Carter to appear at a gathering of the other 10 survivors of the twelve and kill them (and himself) with a bomb.
Ad blocker interference detected!
Wikia is a free-to-use site that makes money from advertising. We have a modified experience for viewers using ad blockers

Wikia is not accessible if you've made further modifications. Remove the custom ad blocker rule(s) and the page will load as expected.